The gold medal awarded by the Chamber of Commerce for Pavia (for the high number of exports) to A.GRASSI FIGLI of Vigevano testifies to the companyís prestige. The company is well know throughout the world for the quality of the machines commercialised (machinery for the production of shoes, leather goods, packaging, toys, plastic and technological goods) which are considered, from the technological point of view, to be at the forefront of their specific sector.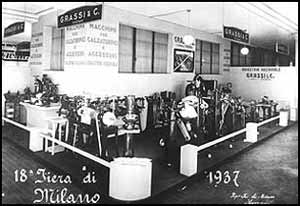 Established in 1919 by Cav.Uff. Agostino Grassi it was one of the first companies in Vigevano to understand the importance of an activity capable of supplying many sectors of industry with excellent machinery whic is continually improved, selected and checked technologically.

Dynamism and a pioneering spirit led the company to become a promoter, and primary creator of industrial developmant fovouring the expansion of numerous engineering works whose production was absorbed by the company and then commercialised with success, first at the national level and then as the company envolved, throughout the rest of the world.

The driving force of Mr. Marino Grassi, son of the founder, with the help of his sister Lina, allowed the Company to assert itself with authority and credibility and to consolidate in time an economic\commercial activity at the forefront as regards its organisational potential.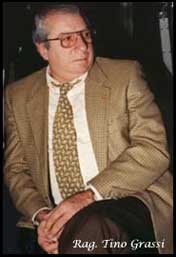 Today the company is run by the founder grandsoní s Tino Grassi, who has introduced managerial concepts which have partly emerged from his hands- on experience in the company and partly from international marketing, building up knowledge of the system and manufacturing procesess and supplying potential consumers a complete package which ranges from drawing up technical solutions to service, training and technical advice.

A.Grassi Figli has a commercial and service network throughout the world and pays carefull attention during every stage of distribution; from stringent tests on the machinery to transport, from installation to operator training , from the guarantee of supplying any spare part and parts which are subject to wear and tear over time to speedy intervention.

A.Grassi Figliís strong points are the technical\economic matters involved in commercialisation rather than pure sales. As A testimony to this the company has received imortant acknowledgments from the world of politics and economics. Particularly in developing companies A.Grassi Figli has received approval of its way of operating "vis a vis" with different cultures, in different countries, highlighting the spirit of collaboration and service.

A.Grassi Figli has asserted itself with a prestigious trademark so much so that it is considered a world leader in "turn-key" plants in the leather sector. The company participates in the most important exhibitions in the world and in Italy it occupies a position in the review Tecnoforpel, as a company with a world image in leather working.

In 1997 Simone and Luca were the fourth generation of the family from Vigevano to enter the company.